Monday, November 14, 2011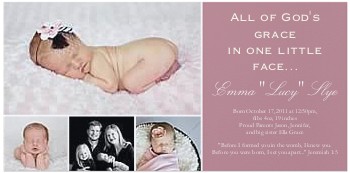 Initial Impression Pink Baby Announcements
To see Shutterfly's birth announcement designs, click here.

Posted by

Jennifer Slye
at 10:23 AM
No comments:
Links to this post


Tuesday, August 2, 2011
Our last full day in Destin, we spent at Big Kahuna water park. We didn't take any pictures there. But afterwards we walked down to Pompano Joe's for some GREAT seafood!! (and a beautiful wait.)
Ella saw a little boy running on the beach in just his blue swimming diaper, so she and Emma are SCREAMING....."I SEE YOU LITTLE DIAPER BOY!!!" over and over.
My baby tried crab claws, shrimp, and calamari! I was so proud of her!
Between cleaning up ketchup, her appetizer, and wrestling knives away from her.....I was wore out!!
When we got back from dinner, we let Ella go to the pool, since it was her last night. She couldn't sleep with chlorine in her hair, so after her bath she just couldn't stay awake to have her hair dried...lol!
I had to get Daddy's help to get the back. :)
Posted by

Jennifer Slye
at 8:51 AM
No comments:
Links to this post


If we couldn't find Ella, chances are she had taken "chocolate blankie" and settled in somewhere to watch TV. We found her here in Mike and Mandy's room.
The kids had a blast jumping on the beds together all week, especially the girls!
Back to the track to use up the rest of our tickets. It had been raining on and off so it wasn't too hot to go in the middle of the day.
She fell asleep on the swings. Poor tired baby :(
Then on to bumper boats, which I thought she would hate because you spray each other water. But she did great!! She even got soaked and didn't cry! She didn't ask to do it agian though .... lol. The adults had a great time though!
Spraying the people in line!
One last spin around the track to burn our last two tickets!! Ella never got tired of go-carts!
I love walking on the beach at night!! There were some fireworks off in the distance that the girls loved! We followed some people for a while that were hunting sand crabs. Ella touched one, but after that they weren't very interested. They decided to just put sand in the nets. I dont know why, but in the dark, Ella had no problem with sand.
Posted by

Jennifer Slye
at 8:32 AM
No comments:
Links to this post


This Life Jacket was the best purchase we made the whole trip! It gave Ella so much freedom! She was swimming all over the pool by herself!
Jason had his hands full most of the time.

From 7-27-11
One of the few pictures of me. Doing what I do best.....Chillin'!

From 7-27-11
This is what I got when I asked Ella to smile for Daddy. She is still holding her breath, even though there wasn't a chance she was going under water all day :)

From 7-27-11
I can't believe I didn't take more pictures of my sweet girl by herself! Well with 4 hungry adults, 3 tired kids, and 1 (mine) that didn't want sand to touch any part of her, we did the best we could.

From 7-27-11
After dinner we took the kids to The Track

. From 7-27-11
Cooper wanted to ride the skycoaster. The fact that he was so young drew a crowd. He never cried or screamed. He acted like it was no big deal. Jason and I were watching from the stands. Ella fell off backwards and hit her head while we were waiting. I went to check on Ella and EMMA fell off. So everyone was watching us too to see which kid we were going to drop next!

From 7-27-11
Ella was big enough to ride in the go carts this year! She was so excited. This is how she wants Daddy to drive all the time!

From 7-27-11
Posted by

Jennifer Slye
at 8:14 AM
No comments:
Links to this post